Welcome!
Welcome to the Akkun to Kanojo (My Sweet Tyrant) Wiki, a wiki on the series by Waka Kakitsubata. Despite his incredible bashfulness, Atsuhiro "Akkun" Kagari has landed the girl of his dreams: the sweet and loveable Non "Nontan" Katagiri. However, his embarrassment for affectionate acts—from giving compliments to exchanging a kiss—causes him to act harsh and downright mean to Nontan in their day-to-day lives. But Akkun is still very much a boy in love; and he shows his admiration for Non in his own way. Luckily enough, Nontan finds Akkun's actions cute and endearing, and knows he doesn't really mean any of his insults. Follow Akkun and his classmates by watching on Crunchyroll.
Serialization of the manga started in June 2013, running in Media Factory's Monthly Comic Gene, currently up to a total of 8 volumes. On April 2018, the manga was adapted into the anime by media production company Yumeta Company, running for 25 episodes to date.

Meet the group!

All episodes now streaming on Crunchyroll!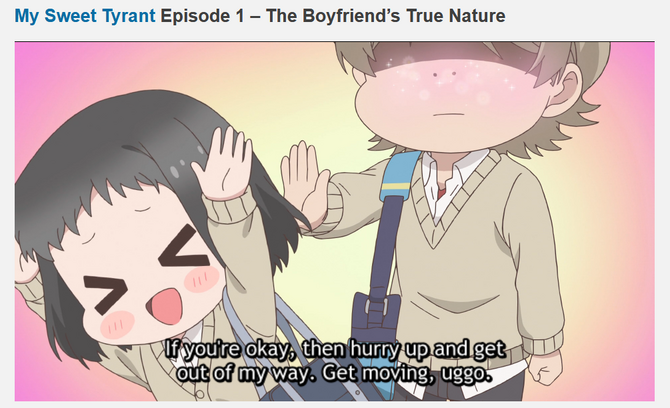 Ways to Help!
Not sure where to start?

Find out more about the community by visiting some of the pages on our Wiki. Use the navigation bar on the top of the page, or, go to a random page!
Start watching some Episodes and engage in conversation in our Forums page.
If you are new to Wikia, check out the tutorial.
Adding content
Visit our Community Portal. This is the starting point for all editors of this Wiki. There, you will find information about new pages, find ways to help clean up the site, and expand our growing range of articles.

Official Sites

Alert
Thank you for your patience over the UCP handover! This community is being built by Urere - please pass any comments onto my Message Wall.

Affiliated Communities
Community content is available under
CC-BY-SA
unless otherwise noted.